Legislative News
2021-2022 Legislative News
---
Legislative news for you to Take Action!
The Academy recently put this out in their newsletter. If you missed it, please read below and don't forget to click the link to take action and tell congress that kids need our support!
Take Action Today to Ensure Kids Continue to Have Access to Healthful Meals.
School and summer meal operators are still facing challenges to provide kids healthful meals as the world experiences rising food costs, ongoing supply chain shortages and labor disruptions.
Take action today: tell Congress that our schools need continued flexibilities to ensure kids have access to healthful meals.
---
The Medical Nutrition Therapy Act was introduced to in the 117th U.S. Congress in May 2021. (H.R. 3108 | S. 1536)
According to the CDC's National Center for Chronic Disease Prevention and Health Promotion, 90% of the nation's $3.5 trillion annual health care expenditures is spent on treating chronic and mental health conditions. Care for individuals with multiple chronic conditions is especially costly in the Medicare population, with more than two-thirds of Medicare beneficiaries having multiple chronic conditions.
MNT is a cost-effective component of treatment for many chronic conditions our nation faces. Counseling provided by an RDN as part of a health care team can positively impact weight, blood pressure, blood lipids and blood glucose control.
The MNT Act allows Medicare beneficiaries to access the care they need by providing Medicare Part B coverage for MNT for: Prediabetes, Obesity, Hypertension, Dyslipidemia, Malnutrition, Eating Disorders, Cancer, GI Disease including Celiac Disease, Cardiovascular Disease, HIV/AIDS, and any other disease or condition causing unintentional weight loss. The MNT Act also allows the U.S. secretary of Health and Human Services to expand coverage for MNT to other disease or conditions as determined medically necessary. It also authorizes nurse practitioners, physician assistants, clinical nurse specialists and psychologist to refer their patients for MNT.
How can you promote the MNT Act?
Action alert for MNT Act (this is an easy way to urge our local representatives to support the MNT Act)
Contribute $5 to ANDPAC to support the advancement of the MNT Act and other key Academy policy initiatives
Tell five people (friends, colleagues, clients) to "ACT now for MNT" by sharing this public action alert (Post to Facebook, Instagram, or a local Bulletin Board)
---
Great News for Home EN and PN Medicare Coverage!
An update to home EN and PN Medicare Local Coverage Determinations (LCD's) took effect September 5th 2021. Since 1984 PN and EN therapies have been covered under the Prosthetic Device Benefit within the Part B Durable Medical Equipment and Prosthetic/Orthotics and Supplies (DMEPOS) benefit. Under the outdated, now retired, home PN (HPN) policy less than 15% of HPN referrals were eventually covered by Medicare due to the extensive (often outdated) testing and documentation required for coverage. Even outdated markers like albumin levels were still required for HPN approval. Under the new policy there are no specifics for testing or evidence required. Only that the provider document in the medical record evidence that the HPN is "reasonable and necessary". Essentially, the provider must clearly tell the story f what the disease process or diagnosis is, how it is affecting nutrient absorption, why does the patient require PN and how long with they need it at home, so that any non-clinician can understand.
---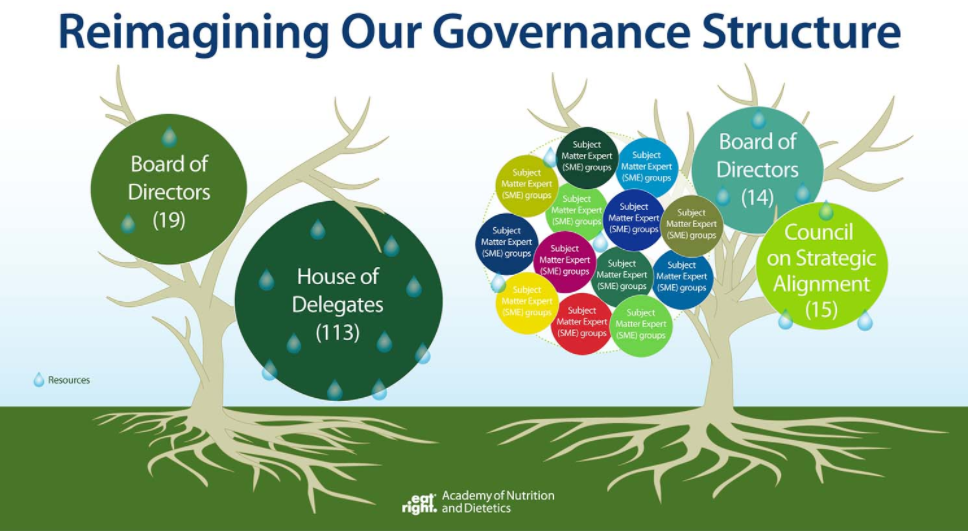 There is a proposed change to the governance structure of the Academy and your feedback is welcomed. "The new structure will reduce the Board of Directors from 19 to 14 to align with the best practices for association governance and to include new pathways for diverse representation. The House of Delegates and the Council on Future Practice will transition to a new Strategic Council to cultivate a competency-based organization that has access to subject matter experts recruited from dietetic practice groups, member interest groups and affiliates to anticipate and address future needs of the profession." To read more about this change visit https://www.eatrightpro.org/leadership/governance/governance-resources/proposed-governance-transition .
---
Know your legislators and contact them about the issues that are important to you!
---