Home


The North Sound Dietetic Association's mission is to promote the advancement of dietetic professionals by strengthening our knowledge-base and providing access to opportunities for skill enhancement and professional networks. It is to be the advocate of the dietetic profession serving the public through promoting optimal nutrition, health, and well-being.
---

North Sound Dietetic Association serves and represents Registered Dietitians and Dietetic Technicians registered, living or working in north King, Snohomish, Skagit, Island, San Juan or Whatcom communities in Washington State. Our membership meetings are open to Registered Dietitians both active and retired, nutrition students and Dietetic Interns.

A Note of Thanks to our Sponsors:


We at the North Sound Dietetic Association would not be able to provide our low-cost memberships, member events, or expert speakers without the support of our sponsors. This year, we would like to thank Health-e Pro, a simple and innovative school menu planning software company founded out of Anacortes, Washington, for their generous support of our organization. Thank you!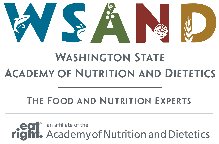 ---